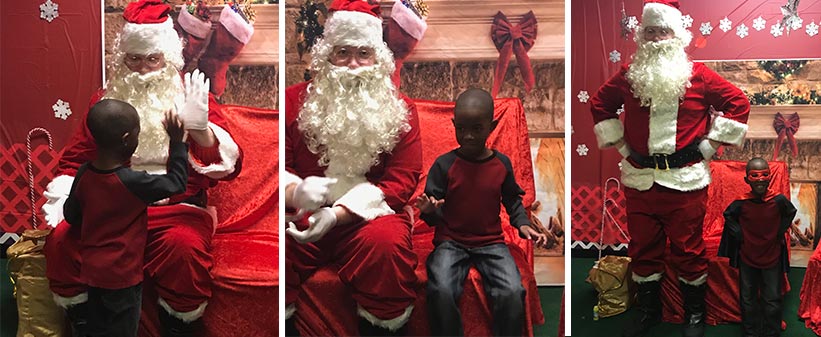 Posted by Caravel Autism Health
On December 13, 2018
0 Comments
Caravel Autism Health teamed up with a special new playhouse to host two holiday parties designed especially for children with autism and their families. These "Quiet Santa" parties were the first of their kind for Caravel Autism Health and Color Wheel Playhouse – and they were a sold-out success!
Quiet Santa and his elves invited children with autism to join them at Color Wheel Playhouse, a new space where children with sensory sensitivities can be themselves and have fun. The playhouse features a trampoline, climbing wall, ball pit, zipline, and a variety of swings designed for kids with sensory issues.
Just beyond the amazing play area, kids could catch a glimpse of Quiet Santa and his elves. Partygoers were encouraged to flip through a book created by Caravel Autism Health staff just for the occasion, which highlighted the ways in which they could engage with Quiet Santa.
"We made sure to give kids the time to ponder whether and how they wanted to interact with Quiet Santa," explained Andrea Whalen, Clinical Director and Lead BCBA at Caravel Autism Health's clinic in Schaumburg. "We wanted them to meet Santa at their own level in a way that felt comfortable."
The response from the kids was phenomenal, according to Whalen: "The kids took their time and figured out what felt right to them. Some kids opted to wave at Santa or give him a high-five. Several blew bubbles and popped them with Santa's help. Many eventually chose to approach Santa and sit next to him for photos. A few brave young partygoers even opted to climb into Santa's lap for a holiday chat. And not a single child cried or screamed."
Rochelle Adewuyi, owner of Color Wheel Playhouse and parent of a son with autism, was thrilled with the response. "This was exactly what my husband and I envisioned when we decided to create Color Wheel. The space was filled with kids from all over the spectrum. We had kids who are neurotypical and kids with special needs, all playing together and laughing and having a fantastic time."
Whalen was even approached by one grateful father of two kids, who told her "This is amazing! This is the first Christmas we've been able to do this. Please do it again next year!"
Happy holidays to you and yours from all of us at Caravel Autism Health!