Posted by Caravel Autism Health
On March 4, 2019
0 Comments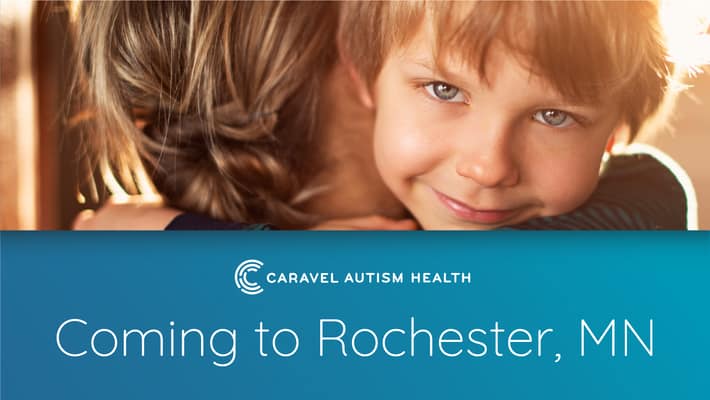 Caravel Autism Health will be expanding its services to families living in Minnesota, effective March 2019. Caravel Autism Health specialists will be serving families in the Rochester, MN area initially, with plans to expand into Mankato, St. Cloud and the Twin Cities metro area in the near future.
Caravel Autism Health clinics are designed to provide comprehensive support for families. Each clinic offers diagnostic evaluations by specially trained psychologists and creates customized Applied Behavior Analysis ("ABA") therapy programs to help children with autism develop skills, create connections and gain confidence.
The new Minnesota center offers several therapy options for children with autism. These options include home-based ABA therapy, center-based ABA therapy, and a hybrid model combining the two. In-home therapy programs give autism health specialists the opportunity to provide individualized therapy and socialization skills training in the home: the child's natural environment. For center-based therapy services, the parent brings the child to a Caravel Autism Health center where he or she receives the same type of individualized ABA therapy and socialization skills training, but in a structured center program with other children present. The third model combines both in-home treatment and center-based services to meet the individual needs of the child and family. Regardless of where therapy takes place, all families receive the same level of evidence-based treatment, parent training and comprehensive support that gives their children the greatest chance for leading independent and happy lives.
Jackie Vick, the newly appointed vice president of Minnesota clinical operations, invites Minnesota parents, pediatricians, educators and others devoted to improving the lives of children living with autism to join her team to learn more about Caravel Autism Health and ABA therapy.
Open house events will be held on Friday, March 8th 1:00-4:00 pm and 5:00-8:00 pm and Saturday, March 9th from 9:00 am to noon at the Rochester Area Foundation Building.
Caravel Autism Health's diagnostic specialists will be available at the open house events to complete on-site autism screenings for children who may be impacted by autism. Families interested in learning more about Caravel Autism Health's diagnostic and ABA therapy programs can also call the Client Intake Team by calling 1-844-583-5437.
For more information about evidence-based ABA therapy, visit https://caravelautism.com/what-is-aba-therapy/.